KANSAS CITY, Mo., Feb. 25, 2014 /PRNewswire/ — American farmers could have produced approximately 1.6 billion more bushels of corn and 250 million more bushels of soybeans in 2013, realizing approximately $11 billion in additional revenue, if performing equal to the 75th percentile compared to their peers, according to the new TrueHarvest Benchmark.
Corn production in Iowa alone could have increased by approximately 11%, creating an additional $1.1 billion in revenue, based on current market prices. Soybean production could have increased by approximately 10% in Iowa, creating an additional $560 million in revenue. Combined, for Iowa production alone, farmers could have seen approximately $1.6 billion in increased revenue. Extrapolated out to other grain producing states, American farmers could have seen approximately $11 billion in increased revenue.
FarmLink, a leader in independent data-driven agribusiness tools, today announced the launch of TrueHarvest, the new benchmarking tool that for the first time accurately shows farmers the full range of performance potential for fields, down to a 150 square foot micro-field. The TrueHarvest Benchmark will be available for corn, soybean and wheat fields in the United States, with rapid international expansion anticipated.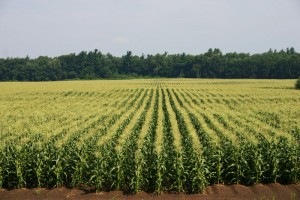 "Based on the TrueHarvest Benchmark national estimate, corn and soybean farmers have the potential to boost production by $11 billion, and that is with today's best practices. With tools like the TrueHarvest Benchmark and others under development, far more is possible," said Ron LeMay, Chairman of FarmLink. "By analyzing billions of data elements, TrueHarvest offers a never-before-seen view of a farm's performance ranges – at the field, zone and micro-field levels. Knowing where the true potential lies, farmers can make better investment decisions by focusing time and resources where the greatest opportunity exists."
As part of FarmLink's commitment to farmers, as the product rolls out, every farmer in America can sign up and gain access to his 2013 field-level Benchmark at the 95th percentile for all his fields, free of charge.
When farmers purchase the TrueHarvest Benchmark, they receive all their 2013 Benchmarks, 2014 Benchmarks, a Micro-Field Reader to measure yield at the micro-field level, Gap Maps and tools to identify revenue improvement opportunities. FarmLink believes in shared success with farmers, therefore the TrueHarvest Benchmark price is calculated as approximately one bushel of corn equivalent per acre. This will include an up-front deposit plus a payment at Fall settlement.
To create the TrueHarvest Benchmark, FarmLink data scientists use more than 500 million micro-fields, or 150 square foot areas, made up of many variables across weather, soil, topography, and more. This establishes a data set of more than 600 billion data elements from millions of acres. That core data is being used to benchmark 67 billion micro-fields in the United States, which create the performance range for every micro-field on every field in any portfolio of corn, soybean and wheat fields in the United States. The result is a unique and precise understanding of the performance range of comparable land in comparable conditions for that season.
"Individual data elements don't give farmers a comprehensive comparison. When that data is combined and analyzed creating benchmarks at the field, zone and micro-field levels, farmers can plan smarter and and objectively measure the results of those plans," said LeMay. The Benchmarks identify revenue improvement opportunities by comparing actual yield to the Benchmarks.
"Until now, farmers had no way to know whether their yields – high or low – were representative of top performance," said Scott Robinson, President of FarmLink.  "Now farmers can increase, decrease or change inputs based on where they see the greatest potential, and judge the value of these input changes year over year."
"Predictive analytics will fundamentally reinvent agriculture and FarmLink has enormous advantages in this area due to its data collection process, analytical approaches and impartial position in the market.  These are key ingredients for providing the necessary accuracy to benchmark farmland accurately and identify year-over-year yield improvement," said Roy Lowrance, Managing Director of New York University's Center for Data Science.
To develop the TrueHarvest Benchmark, FarmLink has invested more than $50 million over the past four years. Future TrueHarvest tools will allow farmers to use the Benchmark information to make better informed decisions about inputs, including seed and fertilizer from multiple providers, and see at a glance which combination would perform best on which parts of a farm. The TrueHarvest crop management series will provide real time alerts, satellite imaging during the growing season, and more. FarmLink also plans to introduce risk management services that will help farmers maximize the price they realize for their crops.
"Farmers will be increasingly challenged to improve productivity and FarmLink's agronomic benchmarking is a huge step forward in understanding performance with amazing accuracy and granularity.  The tools that have been developed will permit farmers to make increasing wise decisions impacting their financial performance.  Such tools and independent advice are exactly what farmers need to improve their game," said Moe Russell, Co-Founder and President of Russell Consulting Group.