Corn farmers in southeast Missouri are expecting high yields — but low profits.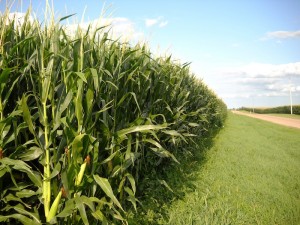 The Southeast Missourian reports that the weather has been cooperative this year with average temperatures and plenty of rain. Corn yields could rise 10 percent, but prices are expected to be down.
"It's going to be really tough to make money this year," said Dan Jennings, who farms about 1,800 acres of corn near Sikeston, Missouri.
Michael Aide, chairman of the department of agriculture at Southeast Missouri State University, said it appears to be a strong corn crop.
At midweek, the Chicago Board of Trade listed corn at $3.85 per bushel, down significantly from a year ago.
Jennings plans to put about 40 percent of his corn crop into storage and has already sold the rest. Corn prices are usually about 40 cents a bushel higher after Jan. 1 than they are around harvest time in September.
Edward Dement of Sikeston has already presold some of his corn crop for the September harvest.
"It's going to be a very big corn yield year," he said.
David Reinbott of the University of Missouri Extension in Benton said input costs this year are similar to last year. Any savings in fertilizer cost were offset by rising seed prices, the result of increased demand from South America and China, Reinbott said.
Shipping could also be problematic and expensive. After the Mississippi River flood closed the river to traffic for part of July, shipping rates have increased.