During recent weeks, we at BigYield.us have been busily harvesting our research plots at The Farm Research Center in Garden City, Mo. Field research enables us to test products and production approaches. Based on the results, we learn strategies that get the biggest yields at the most reasonable cost, and we pass along our findings to help save you money, make you money and save you time.
We're starting to analyze our 2016 harvest data, and already, we've found trials that have produced some big yields and strong return on investment!
In soybeans, BigSweetYield DB was one product that we tested. It blends our cold-processed sweetener, the multiple beneficial bacteria in BigBioYield and the Yield Booster fertilizer with seven micronutrients. Applying BigSweetYield DB can reduce insect pressure, promote disease resistance, enhance fungicidal activity, improve nutrient availability, offer energy to the plant and support overall plant health.
The chart below presents our trial's yield results. When we applied BigSweetYield DB in soybeans, yields averaged 59 bushels per acre. By comparison, the check yields averaged 42.6 bushels per acre. For the BigSweetYield DB test, we applied 3 quarts of the product per acre at both V3 and R1. The check and BigSweetYield DB test both also had 6 gallons of BPIF applied. Kent Kauffman of BigYield.us explains more about the test in this video.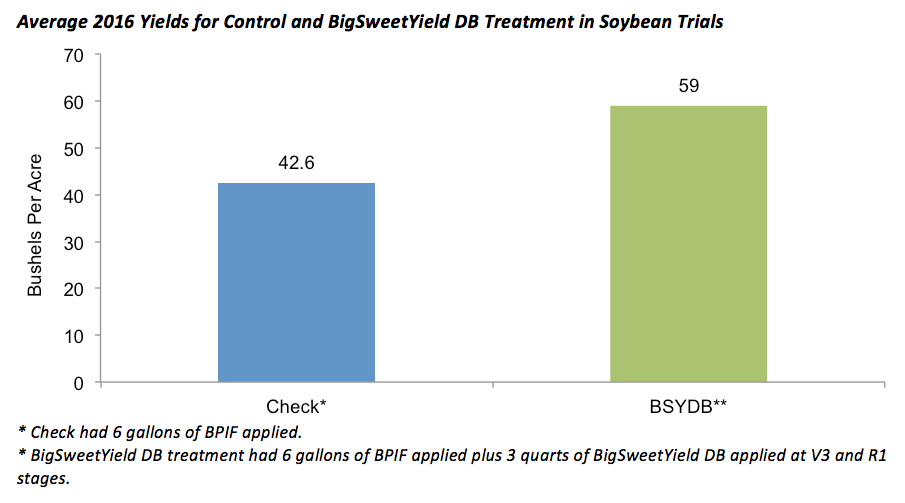 Although big yields are important, we at BigYield.us are also intently focused on getting good returns for our growers. The return realized from applying BigSweetYield DB in this program exceeded 470 percent. This estimate accounts for soybean prices averaging $9.27 per bushel and the BigSweetYield DB investment.
When evaluating your input options for 2017, we encourage you to consider BigSweetYield DB as a tool to cost effectively promote yields. This story from AgWeb shares more tips when preparing for next year.
For more information about BigSweetYield DB, please call or email anytime.