Entomologists in Indiana, Missouri and Ohio have noticed higher than normal moth catches this spring. With the recent weather fronts moving through the upper Midwest, black cutworm trap catches have increased dramatically in several areas over the past weeks. The catches signal that we may see some feeding activity this growing season. The moths can lay eggs in any number of fields but corn fields are the most at risk right now as the first generation of cutworm larvae could coincide with young corn plants emerging across the Midwest.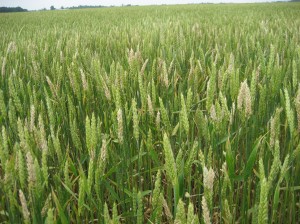 The fields that are most at risk are low-lying, wet, located near vegetation such as woods or a weedy meadow, heavy residue or winter annual weeds, were planted late to corn or have a history of black cutworm problems. When the moths fly in to lay their eggs they look for green material to lay their eggs so the young larvae will have something to feed on. This would mean that fields with winter annuals or other weeds would be an ideal location for their egg laying.
Scouting for the young larvae can be tricky. Not only are the cutworms black or gray in color, but they also curl up at the base of the plants under the soil and residue during the day and only emerge to feed at night. A University of Missouri guide recommends scouting 25 consecutive plants within a row in 10 areas in a field for evidence of cutworms feeding on leaves and cutting the plant above or below ground. The injury level can be calculated by dividing the number of plants damaged by the total number of plants scouted. Missouri treatment thresholds are 3 to 4 percent for underground cutting and 6 to 8 percent for aboveground damage. Ohio State University guide recommends that if 3 percent of plants are injured, corn is between the second- and six-leaf stage, and larvae are less than an inch big, treatment is warranted. Foliar insecticides are fairly effective in controlling cutworm infestations.
Corn should be scouted until plants are in the five to six leaf stage, and then continue to scout other crops like soybeans and wheat for two weeks after emergence. Black cutworms prefer wet soils so producers with cool, wet planting conditions may find that their corn is growing more slowly and will be susceptible longer. In drier soils, cutworms will actually uproot a growing plant and drag it into its burrow to eat, so watch for missing plants.
Wheat disease update — The wheat development is variable this year and at this point in time foliage diseases have not been a significant issue. States to the south have been dry and therefore there is less inoculum developed to move north and infect our crop. Powdery mildew has been reported in one or two isolated fields but has not been as prevalent as in 2013. Septoria is beginning to show up but is coming in late enough in the season that impact on yield should be minimal. Neither leaf rust nor stripe rust has been reported on wheat in Missouri so far. The later in the season foliage diseases become established and the later they begin to increase in severity, the less yield loss is likely to occur.