If you don't own an umbrella, now might be a good time to get one.
Thunderstorms from Kansas will roll across Missouri starting Wednesday and extending through Monday, according to the National Weather Service. Jayson Gosselin, meteorologist for the St. Louis National Weather Service, estimated that 1.5 to 2.5 inches of rain will fall in Columbia between Wednesday and Saturday night, but that most of it will fall on Thursday night.
Ben Miller, a meteorologist for St. Louis National Weather Service, said that a storm front stalled over Missouri and will cause scattered thunderstorms when it collides with areas of low pressure 15,000 to 20,000 feet in the air.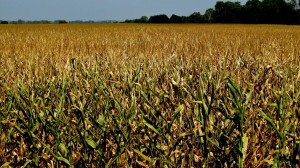 But what might throw a wrench into weekend plans is good news for Missouri agriculture. July was a dry month and corn farmers depend on the rain, especiallythe corn crop that was on schedule bring in record yields, according to previous Missourian reporting.
According the the National Agricultural Statistics Service, Missouri received an average of 3.01 inches of rain in July 2013. This July, Missouri saw only 2.59 inches of rain, 1.25 inches below the average, according to the Missouri Climate Center.
"Corn needs rain in July," said MU agronomist Bill Wiebold in an MU news release. "Three-quarters of an inch won't do it, no matter how deep your soils."
Brent Myers, MU extension corn specialist, agreed. He said that the soil can store 6 to 12 inches of water, but the reserves are running low.
"We've reached the point where the crops have used all the water in the soil and we could really use the rain," Myers said.
"Every day that we don't get rain, we lose just a little bit of yield," Wiebold said in an interview. "It may take a week to lose 3 or 4 percent, but it accumulates quickly."
This July was also the second coolest in the last 120 years, the release said. The only July that was cooler was in 1950. Because there was so little rain, the mild July weather was beneficial.
"Cool weather slows evaporation from plants and soil," Pat Guinan, MU extension climatologist, said in the release.
Although rain in July was sparse, Wiebold said the storms could still give corn farmers tremendous results.
"We were headed to extremely large yields," he said. "If lack of rain cuts yields 10 percent, Missouri farmers can still have record crops — if we get rains now."
Meyers added that even if the crops didn't get the rain they need, the results wouldn't be completely disastrous.
"If we didn't (get rain) in Columbia, we would probably end up with about an average yield, but we were on track for a very high yield if we had the water supply," Myers said.