"I've never seen Missouri corn looking this good," said University of Missouri Extension corn specialist Brent Myers.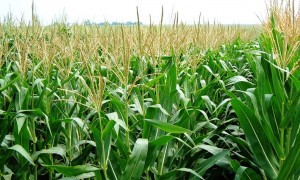 In their weekly teleconference on Tuesday, July 22, MU Extension agronomy specialists across the state echoed Myers' outlook. The July 18 USDA Missouri Crop Progress and Condition report shows 84 percent of Missouri corn in good to excellent condition.
Corn silking progressed to 79 percent statewide—51 percent ahead of this time last year and 22 percent in front of the five-year average. "It's pretty amazing," Myers said.
"2004 was the last time we have seen a corn crop with this much of the state's acres in good to excellent condition at this time of year, but 2014 is higher," Myers said. "2009 was close by the end of the year."
However, it's still too early to call bushels in the bin. Missouri cornfields appear to have ample nitrogen, but they need timely rainfalls to bring a bumper crop, Myers said. Agronomy specialists across the state said crops need rain now. Cool conditions have prevented drought stress so far.
Myers said he encourages corn producers to prepare precision agriculture yield monitors at this time in preparation for harvest, and to have a plan for calibration. "Quality data from a year like this can be very useful for future analysis."
MU Extension entomologist Wayne Bailey also reported good news for corn producers at the weekly teleconference. Corn is mostly past the danger zone for Japanese beetle problems since pollination is nearly complete. The beetles feed on green silks and tassels of corn, disrupting pollination and reducing yields.
USDA also reported good news for Missouri soybean producers. Soybean crop condition was rated 77 percent good to excellent with 30 percent of the crop blooming.