Stoddard County farmers are ahead of the rest of the state in getting the corn crop planted in 2014 with many farmers either finished planting or finishing this week.
Statewide, 26 percent of the Missouri corn crop is planted and farmers are right on target, said University of Missouri Extension specialists Bill Wiebold and Brent Myers of the College of Agriculture, Food and Natural Resources.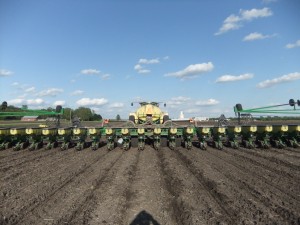 Missouri corn producers have planted more than double the amount of corn that what was planted last year at this time, according to the U.S. Department of Agriculture's April 21 crop progress report.
Jim Stuever, who farms south of Dexter, said he estimated county farmers had at least 75 to 80 percent of their corn crop planted. He hoped to finish planting corn this week. He said he had increased his corn acreage slightly.
"It was late in May last year before I finished planting corn," said Stuever. "I am about where I would like to be this year."
Stuever said later corn can cause more problems with insects which lay their eggs in June.
Elvin Kingree, who farms land in the Aid and Dudley areas, said he hoped to finish planting his corn crop this week. Kingree said he had two-thirds of his corn crop already planted. Kingree said he was planting "about the same acreage of corn as last year, or maybe a little more."
"I have some corn already up and some just planted," noted Kingree.
U.S. farmers harvested a record 13.9 billion bushels of corn in 2013 despite a cold and rainy planting season. Only 12 percent of the crop was planted last year at this time, far below the five-year average of 29 percent.
Large, efficient machinery means farmers can plant a lot of corn in a short amount of time, Wiebold said, and soil conditions can change quickly.
"We can plant our corn crop in about two weeks with good weather in this state," Wiebold said at the weekly MU Plant Sciences teleconference.
Gene Rowland at Stoddard County Seed and Feed near Dudley agreed that with larger equipment, farmers can make up for any lost time due to the late cold weather. His business sells soybeans and is gearing up for the start of planting season. Farmers will not begin planting soybeans until the first of May, Rowland said.
Southwestern Missouri is also ahead of last year in corn planting with 77 percent of its acres already planted and 31 percent of the crop emerged. The northwestern and northeastern parts of the state, as well as east-central Missouri, lag behind the rest of the state.
Yield begins to drop when corn is planted after the third week of April, but only by 5 percent by May 5 and 13 percent by May 20, according to Wiebold's planting date study at MU's Bradford Research and Extension Center. June 19 is the critical date, when yields drop 40 percent.
Jackie Coleman, at Ken. L. Minton Farms, said they were finished planting their corn acreage for this year.
Kingree said he was starting to plant rice this week and estimated he had about 10 percent of his rice crop in the ground. Kingree said he plants rice from mid-April until the last of April.
Coleman said they were also starting to plant rice at Ken L. Minton farms.
Some county farmers have begun to plant cotton, but most are holding off until the first of May.
Stuever said the usual time to plant cotton is from the last week in April to May 15. Of course weather is the main factor. Soil temperatures need to be warmer than what they have been for cotton, Steuever said.
"My favorite time to plant cotton is between May 1 and May 10," said Stuever. "I've been doing this for 40 years, and I would like the ground to warm up a little bit more."
Stuever said cotton is fragile when "it's young," and warmer soil temperatures produce sturdier young plants.
Rowland said the 2014 wheat harvest was behind the normal harvest time because of the cold winter. He estimated farmers will begin harvesting wheat in the middle part of June.