Harvest is in full swing, and many states in the region are exceeding crop expectations.
John Hickman, a St. Joseph area farmer, has been helping on the farm since he was 7 years old. He's seen the ups and downs, but says this year things are looking good.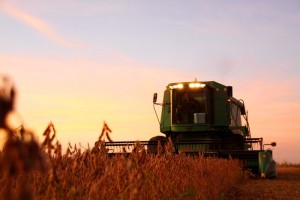 "These beans in this field are a lot better than they were last year. But last year we had a fair crop because we had rain that some others did not get. But it's a lot better this year, I'm really surprised with the crops we're having," said Hickman.
Agriculture experts expect Missouri's corn harvest to average 126 bushels per acre, which is up from last year's 85 bushels per acre.
"I think we'll beat that up here because a lot of yields, not only the ones I've measured, but some producers I've talked to and trust to shoot straight, we've got a lot of corn in the 220 to 240 bushel range," said Agriculture Business Specialist Bob Kelly.
Soy beans are expected to yield 34 bushels per acre on average, up from last year's 30 bushels per acre.
"Soy beans will probably be in the 45 to 50 range," said Hickman.
Even with a late-summer drought, farmers in Northwest Missouri are happy with what they've seen so far.
Hickman says it's all about timing.
"We've had the rain at the right time, that's what it takes," said Hickman.