Drought conditions are holding back the high potential of the Nebraska corn and soybean crops, but that's not really a surprise. "Dry conditions in Nebraska are the norm," says says Chip Flory, Pro Farmer editor and western tour director. "I think we're looking at really average corn and soybean crops."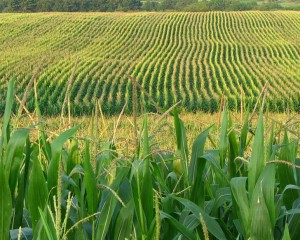 After more than 230 samples in Nebraska, the average for corn yields is 154.93 bu./acre on the 2013 Pro Farmer Midwest Crop Tour. In 2012, the Nebraska corn yield estimate was 131.79 bu./acre and the three-year average for the state is 147.93 bu./acre.
For soybeans, scouts found an average of 1,138.94 pods in a three-foot by three-foot square. In 2012, the pod count in a 3-foot by 3-foot square was 894.43 and the three-year average is 1,162.42.
Nebraska ranks third in the U.S. in corn acres. As of Aug. 1, USDA has forecast the average corn yield in the state to be 161 bu./acre. For soybeans, Nebraska ranks sixth in the country for soybean acres. USDA has forecast a state yield average of 47 bu./acre. (On the Pro Farmer Midwest Crop Tour, soybean yield is not estimated.)
Currently, more than 95% of the state is experiencing abnormally dry weather, according to the latest U.S. Drought Monitor. Several scouts report seeing signs of drought stress on the state's corn and soybean crops.
Even though yield estimates are high, Jason Franck, western tour consulting agronomist, says he saw lots of uneven emergence in corn fields. "In the same field, you'd see ears that were in different stages of development," he says.
Yet, overall, both the corn and soybean crops are further along in Nebraska, compared to the crops surveyed in South Dakota on Monday, Franck says.
Franck says he also saw some nitrogen deficiency, that wasn't necessarily a major issue now. "But, in a few weeks that could become an issue if the weather conditions become challenging."
Flory says he's not surprised corn yields are not higher. "We always measure Nebraska light," he says. "The state is about 60% irrigated and 40% dryland, but the areas we cover are almost reverse of that (60% dryland and 40% irrigated)."
Devastating, but not Widespread Hail Damage
Trenton Shuck, a farmer from Edgar, Neb., counts himself lucky this year. Around his Clay County farm, a hail storm that rolled through about a month ago shredded corn and soybean fields in an 8-mile stretch.
"This is some of the worst damage I've ever seen," he says. "Now some farmers in the area are starting to chop their damaged corn for silage and disc up their beans."
Shuck was out today getting ready to turn on the pivots on some of his fields, when he ran into scouts on the Pro Farmer Midwest Crop Tour. Temperatures are expected to stay around 90 degrees for the rest of the week.