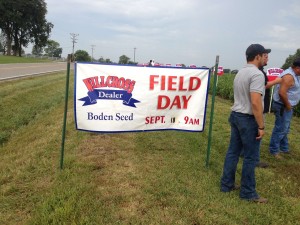 Today the Big Yield Team was down in Montrose, Missouri, at a growers meeting hosted by Wayne and Ed Boden of Boden Seed. We were invited to come down and talk to a group of 40 farmers and a group of FFA students about the success of our high yielding Smart Plot soybeans that we've been managing for the Bodens'.
It's been an unusual season for us here in western Missouri with all the rain throughout the spring, and then the lack of moisture throughout the summer. Fortunately, we've had a little rain over the past few days and are due to get a little more. While we would've liked to have had it sooner, we'll take it now. Regardless of that, our Smart Plot formula for high yielding soybeans has once again proven itself to be successful at increasing crop yields.
High Yield Soybeans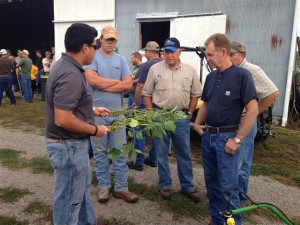 Here we have John Ortiz, General Manager, showing off some soybean plants that he just pulled from our Smart Plot at this location.
As of right now our treated plot is showing an average pod count of 63 per plant. Whereas the check plot is showing an average of 45 pods. A difference of 18 pods per plant, or a 29% yield increase. The gains we are seeing are attributed to the application of our Soy100DB product at the V3-V5 stage, and the application of our BP Foliar Plus product at the R3 stage. Both of these treatments are foliar applications.
High Yield Corn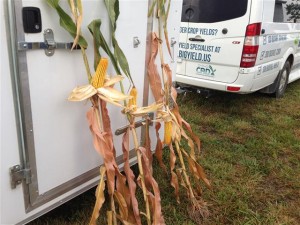 We have some corn that a local grower in Garden City, Missouri, pulled from a plot he applied our Smart Plot BP-InFurrow product to. He applied it at a couple different rates and the results came back as follows:
Check: 169 Bushel per Acre
BP In-Furrow at 4 Gallons: 204 Bushel per Acre, 17% Yield Increase
BP In-Furrow at 8 Gallons: 224 Bushel per Acre, 25% Yield Increase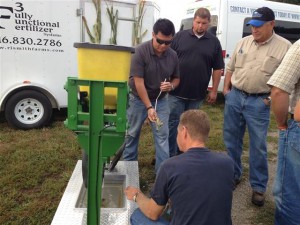 As you can see with the corn results, in-furrow is an important part of our Smart Plot Program. Our BP-InFurrow product is applied at the time of planting for both corn and wheat, and the increases are consistently proving to produce higher plant yields time and time again. Rod Smith of RJ Smith Farms joined us at today's event to show off his planter customizations that play a key role in making our high yield in-furrow magic happen. You can find out more about Rod's Services by visiting http://www.rjsmithfarms.com/.
Tomorrow the Big Yield Team will be traveling up to King City, Missouri, to participate in a customer appreciation event sponsored by Neco Seed of Garden City, Missouri. Once again we will be called upon to share our high yielding recipes with growers. The event will start at 6pm and run into the night. If you're in the neighborhood, we hope you'll come join us.