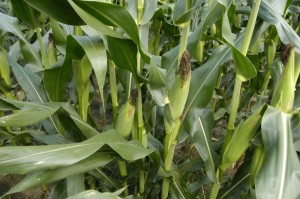 According to the USDA National Agricultural Statistics Service (NASS) June 9 Crop Progress report, 92 percent of the U.S. corn crop had emerged as of June 8, compared with 83 percent at the same point last season and 90 percent for the 2009-13 average. Indiana, Missouri, Illinois, South Dakota, Iowa, and Nebraska were ahead of their normal pace. In the Corn Belt, only Wisconsin, Michigan, and Minnesota remained below normal. Crop condition is substantially improved over the previous season, with 75 percent of the 18-State crop reported as good to excellent, compared with 63 percent last year.
Feed and residual use for the four feed grains plus wheat on a September-August year is projected at 142.5 million tons for 2014/15, compared with 141.4 million estimated for 2013/14. Total grain consuming animal units (GCAUs) are projected 0.85 Million units higher than last month at 90.1 million due to higher estimated cattle on feed. The increase in feeder cattle inventory is partly offset by lower broiler and layer numbers. GCAUs per ton of feed and residual are projected at 1.58 tons per GCAU in 2014/15, down slightly from last month and incrementally higher than in 2013/14.
Forecast U.S. corn supply for 2014/15 remains at 15,111 million bushels, unchanged from last month's projection and 330 million greater than the 2013/14 estimate. Disappearance for 2014/15 remains projected at 13,385 million, and is 250 million below the 2013/14 forecast, mostly due to reduced feed and residual use and export prospects. Ending stocks are projected at 1,726 million bushels, 580 million over the 2013/14 forecast.
The projected season average corn price for 2014/15 is also unchanged from last month, with a range of $3.85 to $4.55 per bushel for a midpoint of $4.20. The forecast 2013/14 average price is lowered 5 cents on the low end and 15 cents on the high end of the range for a midpoint of $4.55 per bushel, reflecting prices reported to date and recent declines in nearby cash and futures prices.