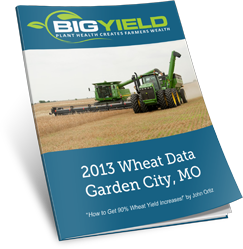 The June 2013 Wheat Yield Data is HERE! Get Your Free High Yield Wheat Report TODAY!
Discover the EXACT TECHNIQUES used by our Research Team to achieve as much as a 90% YIELD INCREASE in our Wheat Crops!
Up to 90% Yield Increases
Fresh Data from June 29th
Proven Techniques that work on ALL Wheat Varieties
90% Yield Increase!
BigYield Researcher, John Ortiz, identifies the Exact Methods he used to create a 90% Yield Increase. Subscribe to get this FREE REPORT and Discover how You can get the Same Results on Your Farm!
Subscribe Confidently! We will never rent or sell your info!

[mc4wp-form]