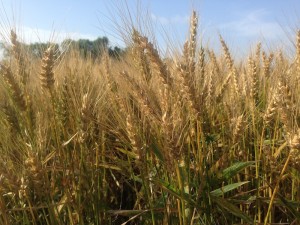 A government forecast is estimating winter wheat production in Missouri at 44 million bushels this year.
The National Agricultural Statistics Service reported Wednesday the anticipated wheat harvest in Missouri is down 21 percent from last year's crop of nearly 56 million bushels.
The smaller harvest stems from the combination of fewer harvested acres and lower yields.
Missouri farmers are expected to cut 800,000 acres of wheat this season, down 20 percent from the 1 million acres harvested a year ago. Farmers are also expected to cut fewer bushels off those acres with an average yield of 55 bushels per acre, down a bushel from last year.
Across the nation, farmers expect to harvest 1.38 billion bushels of winter wheat this year, 10 percent below the 2013 crop.