Nearly 17 percent of Missouri is in severe drought, up more than 5 percentage points over the previous week, after a larger expansion of late-season drought conditions throughout the Midwest.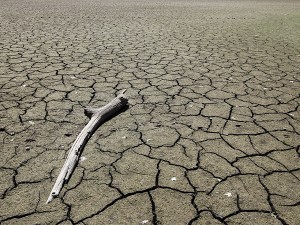 The U.S. Drought Monitor, updated weekly, indicates that 10 percent of the Midwest is in severe drought, up about 4 percentage points from the previous week.
During last year's historic drought, the worst since the 1930s, more than 45 percent of the region was in severe drought.
For farmers the new drought conditions represent a drastic change from the earlier part of the summer, which was cool and, in some areas, wet. But as harvest approaches, rain becomes more critical — and there hasn't been much of that for weeks.
"As corn and soybean plants entered critical seed-filling periods this year, drought returned to some parts of Missouri with a vengeance," said Bill Wiebold, a University of Missouri Extension agronomy specialist, in a statement.
To sustain yields, Wiebold explained, corn and soybeans need at least 1 inch of rain a week, but that has not happened for much of the past 9 weeks. Some parts of the state have seen no rain at all for 7 of the past 9 weeks.
This August was the driest across northern Missouri in three decades, according to Pat Guinan, extension specialist and state climatologist.
Brent Myers, an extension corn specialist, said future rains would do little to save corn yields, and damage to corn is widespread.
Last year, Hurricane Isaac dumped some late-season rain on the region, coming to the rescue of the 2012 soybean crop. But this year, no relief is on the horizon, specialists said.
Some agriculture experts, the university said, are wondering if this year's crop will suffer lower yields, repeating the drought-ravaged harvests of 2012.