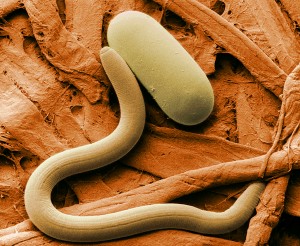 Indiana farmer Kenny George suspected something was wrong with the soybeans he planted each year. They weren't growing as tall or lush as others he'd seen. "I told people, 'I can raise some pretty good corn, but I just can't seem to get over the hump with beans,'" he says.
George contacted Purdue Extension educator Greg Bossaer, who suggested sending a soil sample to the Purdue Nematology Laboratory for analysis. The diagnosis: soybean cyst nematode (SCN), a soil-inhabiting microscopic worm that feeds on the nutrients within soybean roots. SCN can significantly reduce soybean yields.
Bossaer told George that his White County fields would be ideal for SCN research being conducted by Purdue nematologist Jamal Faghihi. George agreed to participate in 2010 field trials comparing commercial soybean varieties with three sources of SCN resistance. The trials found that the variety containing the Peking resistance yielded 16 bushels per acre more than other varieties on George's land.
"I learned that the typical cyst beans being sold on the market are effective but not on my farm," George says. "The field trials changed my whole perspective on the types of soybeans to plant."