This week Andrew Scaboo accepted a new position at the University of Missouri as Assistant Research Professor in soybean breeding.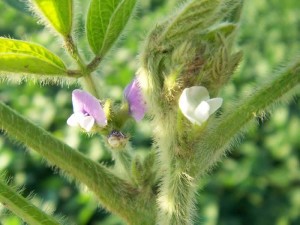 Scaboo first joined the MU team as a senior research scientist in 2012 and since then has been leading the Northern Missouri Soybean Breeding Program. Scaboo says that though his title has changed, his overall goals for the program remain the same.
"The main difference between the previous position and the position I have now is that the position I have now is faculty position," Scaboo said.  "The research objectives and goals for our research program is to improve the profitability and productivity of farmers growing soybeans in northern Missouri."
Scaboo says the best way to improve profitability for farmers in Missouri is to increase the yield potential as much as possible.  This means creating varieties of soybean plants that are resistant to disease and stress from harsh heat and cold.
Michael Collins, the Director in the Division of Plant Sciences believes all the research being done is necessary for Missouri.
"Soybean is the most important field crop in the state," Collins said. "We have something over 5 million acres of soybean, so soybean is the largest and therefore the most valuable field crop that our farms produce so it receives an enormous amount of attention."
Collins says himself as well as the producers in Missouri are looking forward to the great benefits Scaboo's program will bring to Missouri.