Jim Swart, Texas AgriLife integrated pest management specialist at Commerce, Texas, pulled a handful of wheat stalks together, examined the heads, looked at the disease-free leaves, the near perfect stand and declared this could be one of the best test plot crops in some 30 years.
He said some of the earlier maturing varieties in the plots were set back a bit by an April freeze, but overall the Leonard, Texas, trials show exceptional promise. Even the freeze-damaged varieties could make as much as 55 bushels per acre.
Much of the Northeast Texas wheat acreage looks almost as good. Wheat heads are as fat and long as breakfast sausages.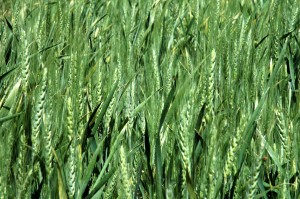 Uniform stands shade out the soil, unlike much of the wheat across the rest of the Southwest where thin stands expose dry soils and large bald spots occur randomly across the fields.  In many cases, drought through fall and winter had already limited production when a late freeze iced any hope of decent yields.
"We were worried about the freezes," said Lana Lumpkins, who farms with her father Ronnie and brother Brad near Leonard. "But the wheat looks better than last year. It's a good wheat crop."
Like most Northeast Texas farms, their acreage was getting a little dry before last week's rainfall. Accumulations varied widely across the three counties where the Lumpkins raise wheat and corn and run some cattle.
Lana said the area around Leonard got about two-and-half inches. Other areas reported as much as 8, she added. For most, last week's rainfall was more than the area had accumulated since the first of the year.
She said corn was not as far along as they would like. "It just hasn't started to take off yet,' she said.
Just a few miles away, Roby and Billy Watson said the early May rainfall "should finish up the wheat pretty well." Conditions "were getting pretty dry before last week," Roby said, "Soil was beginning to crack a bit, not wide cracks but thin ones were coming in."
James Watson, Roby's son, farms with his father and uncle and says the area was getting pretty dry before last week's rainfall.  Dry conditions may have helped keep disease infection down. "We haven't seen much disease pressure but we also sprayed everything with a fungicide."
They said they only had a little freeze damage from an April cold snap.
"It all looks good," said Billy, "but a lot can happen before we take it to town."
They expect to start cutting wheat the first week in June. "It would have to be an early-planted variety to be ready before that," he said.
Swart said the area should make another exceptional wheat crop. "It's surprisingly good. We had everything frozen back to the crowns from a March freeze, but it has completely recovered.  Later maturing varieties had time to tiller and look like they will be a little bit better. I think we will see fields averaging 80 plus bushels per acre."
Northeast Texas received anywhere from two-and-a-half to eight inches of rain last week. "That replenished soil moisture," Swart said. "Now, we are in the grain fill stage so there is not a lot to stop us from making a good crop." He said disease and insect pressure have been light. "Most farmers apply a fungicide as a routine, now," he added, mostly tebuconazole, an inexpensive treatment. "It's been a relatively inexpensive crop and we're just waiting for harvest at this point."