The challenge is daunting: Within 40 years, farmers across the world will need to double production and do it with fewer resources—especially water—to feed, clothe and provide energy for a global population of 9 billion souls.
"Farmers will need to produce as much food, feed and fiber during the first half of this century as has been produced over the last 100 centuries combined to meet the growing demand," says Greg Hart, John Deere sales manager for the U.S. Western Region.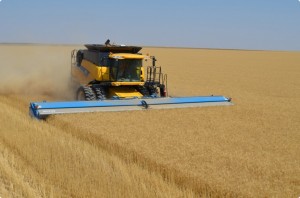 Addressing the second annual Southwest Ag Issues Summit recently in Oklahoma City, Hart said the "future of the world depends on agriculture." And much of that increased production will come from U.S. farmers. "U.S. agriculture will be at the forefront of solving food production challenges for the world. No one is better positioned than U.S. farmers."
It will not be easy.
Most of the population growth expected to occur by 2050 will take place where diets are already less than adequate. Africa will account for 41 percent of the population growth, second to Asia's 49 percent. North American growth is anticipated to increase only 4 percent and South America only 7 percent. Europe's population could decline by about 1 percent.
Obstacles to meeting the demand include meshing productivity with sustainability and resource stewardship. Lack of a skilled labor force, especially in developing nations, also poses significant problems. "Our challenge is to do more with less skilled labor," Hart said.
Production variables will continue to challenge farmers. Weather is the big one. Hart said agricultural yield has followed a strong upward trend since the early 1990s. "But we also had a reduction in 2012 from drought. In 2013, the Southwest had a late spring that hurt production." Much of the region remains in a three-year drought cycle.
"We are just one or two weather events away from either a surplus or a deficit. That's the volatility of agriculture. We must continue to work to optimize production and continue to improve that trend line."
Agriculture has to increase productivity with more limited resources. "The resource base is shrinking. In 10 years, water demand will be 17 percent higher than availability," Hart said.
Improving irrigation efficiency will help. Currently, 18 percent of the world's agricultural land is irrigated, but that 18 percent provides 40 percent of crop production and 60 percent of cereal production. "But more than half of the world's irrigation is by the most inefficient method, gravity flow."
Focusing on more efficient systems, such as low energy precision application (LEPA) and subsurface drip irrigation (SDI), will help. "Agriculture will have to compete for water, and we will see more regulation and higher costs."
Including energy production into the equation puts even more pressure on agricultural productivity. Achieving production targets, he said, will demand "smart use of available resources.
"We will solve these problems by innovation such as precision guidance technology that allows more precise use of inputs, more productivity with fewer inputs and with more comfort and less fatigue for operators. Innovative technology and application will help provide the food, feed, fiber and fuel needed by the growing population. Agriculture needs change. We may not like change but it will be necessary."
Industry must do more than create the technology and also develop methods to increase per-acre or per-bushel efficiency. "We probably have not done as good a job as we need to do to communicate advantages technology provides," he said. "Industry needs to analyze that."