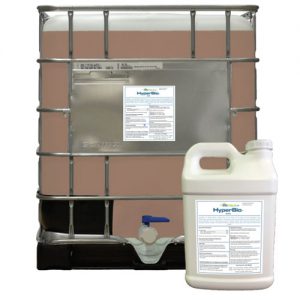 HyperBio is a liquid fertilizer product that can be used for row crops, fruit and vegetable crops, ornamentals, and hydroponic production. The product is obtained naturally by a fermentation process of select vegetables and can help plants overcome negative abiotic stress during the growing season. HyperBio supplies nitrogen and polysaccharides to provide energy, vigor, stress tolerance, and nutrients for better plant growth.
Key Benefits
Improves nutrient conditions for better plant development and overall yield
Provides a prebiotic effect to the soil, enhancing microbial populations
Mixes well with other foliar applications and fertilizers
Helps plants overcome negative abiotic stress
Benefits both the plant and the soil
Yield Data
Recommended Application – Corn and Soybeans
HyperBio can be applied anytime the plant is dealing with stressful growing conditions such as drought, extreme heat, or poor soil conditions. We also recommend including HyperBio with your fungicide applications. HyperBio should be applied as a foliar application at a rate of 27.4 ounces per acre.


How Does HyperBio Work?
HyperBio is a biofertilizer product that provides various things that plants need to be more productive. HyperBio lowers stress on the plant, leading to decreased energy expenditure and increased productivity, leading to higher yield potential. As an added benefit, HyperBio also boosts the microbial activity in the soil.