The estimated 2014-15 corn crop is slated to be record large at 13.935 billion bushels, up slightly from last year's 13.925, according to USDA's latest World Agricultural Supply and Demand Estimates (WASDE). With decent weather, soybean production, too, will bust bins at a record 3.635 billion bushels, according to the estimates.
"Compared to the February Ag Forum numbers, this report look a bit more rosy," says Chad Hart, agricultural economist at Iowa State University. "In February, USDA was projecting an average new-crop corn price of $3.90. This report puts it at $4.20. USDA's estimated average bean price in February was $9.65. This puts it at $10.75."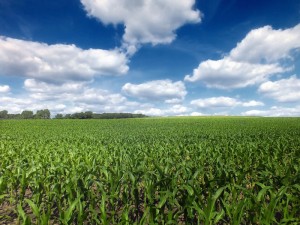 Still, both corn and soybean prices will be substantially lower than the past several years. For corn, higher expected yields this year will offset a reduction in planted area, says USDA. The department expects the U.S. average corn yield to come in at 165.3 bushels per acre, up 6.5 bushels from last year. The forecast assumes normal mid-May planting progress and summer weather.
"USDA is using a really large yield for corn, and they haven't added in any more acres, says Peter Georgantones, analyst with Roy E. Abbott Futures in Minneapolis. He was the commentator on the post-report MGEX press call. Georgantones expects USDA to eventually add another 1 million to 2 million acres of corn plantings to the 2014-15 balance sheet.
"If any troubles in corn cause USDA to take 10 bushels off the yield estimate, there could be tightness in the corn market pretty quickly," says Georgantones.
Corn Supplies Break 15 Billion Bushels
Corn supplies for 2014-15 are projected at a record 15.1 billion bushels, which is 330 million more than last year. USDA expects U.S. corn use to drop 2% below a year earlier. With animal numbers smaller than a year ago, feed and residual use is projected to be 50 million bushels lower than last year. Corn exports are expected to be 200 million bushels lower than current-year exports as world supplies grow and demand softens. Corn used to produce ethanol is expected to be unchanged from this year.
Lower demand and higher production leaves the 2014-15 estimated corn ending stocks at 1.7 billion bushels, up 580 million bushels from the projection for 2013-14. The larger carryout is expected to pressure the farm price to $3.85 to $4.55 per bushel, down from $4.50 to $4.80 for old-crop.
"New-crop carryout caught the market off guard," Geogantones says. "I can't get bullish new-crop corn. I am selling into rallies in new-crop."
Soybeans to Dip Below $10 per Bushel
Soybean production is also projected to be a record 3.635 billion bushels, up 346 million from the 2013-15 crop. USDA estimates that the average U.S. soybean yield will be a record 45.2 bushels per acre, or 1.9 bushels higher than last year. Total 2014-15 soybean supplies are projected at 3.78 billion bushels, up 7.4% from last year.
The U.S. new-crop soybean crush is projected at 1.715 billion bushels, a 20-million bushel increase over last year, reflecting increased domestic soybean meal consumption. Increased supplies and lower prices, however, will not help U.S. soybean meal exports as Argentina fills most of the world's import demand. U.S. soybean exports, however, should remain robust at an expected 1.625 billion bushels, 25 million bushels more than this year due to record supplies and competitive prices.
Despite such strong demand, new-crop ending stocks are projected at 330 million bushels, or 200 million more than old-crop ending stocks. That will put the stocks-to-use ratio to 9.6%.
"The 330 million carryout will do in the market," says Georgantones. "November beans are at $12.25 now, and they could fall $1.50 to $2 per bushel. We will be buried in beans next fall if we have a big crop this year. I am very bearish beans. They have a long way to fall."
The U.S. average new-crop soybean price is forecast to decline to $9.75 to $11.75 per bushel compared with $13.10 per bushel for old-crop beans. New-crop soybean meal prices are forecast at $355 to $395 per ton, compared with $485 per ton for old crop.
"Corn production worldwide will be flat," says Hart. "But in beans we see a sizeable increase in world production of about 6%. Brazil, Paraguay, Ukraine and India, almost everyone is growing more beans with the exception of China."