With a bumper corn harvest expected this year, some Missouri farmers may be looking now for storage options for 2014's bumper corn harvest.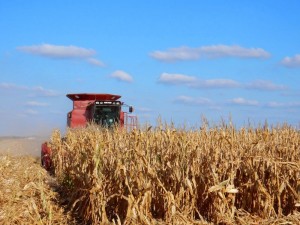 University of Missouri Extension specialist Bill Wiebold said farmers may hold onto corn this year to sell it when prices increase. Corn is trading at about $3.60 a bushel, down from the record of more than $8.30 a bushel in 2012.
The most recent USDA Crop Report predicts Missouri corn harvest at 160 bushels per acre, the second highest yield on record. Production is expected to be up 22 percent, 24 bushels per acre, from 2013.
Growing conditions were favorable in the 18 states that produce 91 percent of the nation's corn. And some producers still have 2012 corn crop in bins, Wiebold said.
Richard Fordyce, Missouri agriculture department director, said recently the state's Grain and Inspection and Warehousing Division is reaching out to farmers and commercial grain elevators to help. "It's got to go somewhere," he said.
"As far as storage, I don't know if anyone has really gotten into it heavy enough yet," said Anthony Ohmes, MU Extension agronomy specialist for the Southeast Region. "There is definitely corn being shelled in different parts of the Bootheel, but some producers are still waiting."