One of the most significant changes in production agriculture over the last 25 years has been adoption of precision agriculture technology as a routine practice in raising and harvesting crops.
From early experiments with what now would be seen as rudimentary systems for yield mapping, to global positioning system technology that allows equipment to follow prescribed paths across a field, to variable rate application that adjusts seeding, pesticide, fertilizer and plant growth regulator products on the go, to the possibility of unmanned aircraft mapping fields, site-specific agriculture has come of age.
But the key to making those systems successful remains the same, says Texas AgriLife Research engineer Steve Searcy. "The challenge is to obtain information and then use it to make decisions that result in profit," he says.
"We have the tools. We can use variable rate application to apply (specific rates) to whatever we need. The next step is to use the information to make money."
Searcy has been involved in precision agriculture research since the mid- 1980s, taking over a project from John Schueller around 1984, after Schueller left Texas A&M and moved on to the University of Florida.
Early work focused on positioning but through microwave triangulation instead of GPS. As the Global Positioning System was increasing the number of satallites in orbit in the early 1990s, research activity was limited because not enough satellites were available to provide access all the time. "We had to do our mapping only when we knew enough satellites were available."
Yield mapping remained the key focus into the 1990s as sensors improved, spurred by developments from Ag Leader, out of Ames, Iowa.
"Ag Leader was the first to offer commercial yield mapping technology. Around 1993, sensors became available as third-party add-ons." Soon, sensors became available as options on new machines as the technology became widely used. "Today, sensors come standard and a buyer might have to ask that it be removed if he doesn't want it." Searcy says the additional cost of a sensor is a small part of the overall cost of a combine.
Over time, as genetically engineered varieties came on and seed prices increased, producers became more interested in variable rate applications, a process that allows a grower to adjust seeding rates to field conditions without stopping to adjust planter settings. Sensors and GPS also adjust pesticide, fertilizer and other input rates on the go. "We can also switch varieties as we move across the field."
Searcy says variable rate irrigation technology is also an option.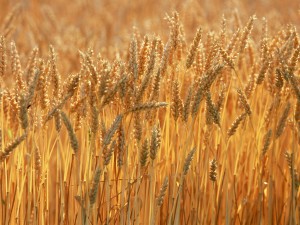 Cotton farmers may soon use site-specific agriculture to help solve a problem that has bedeviled the industry, in some locations, for more than a century. Cotton root rot for decades was a problem without a viable solution, causing millions of dollars in crop losses annually. Recent discovery of a product and an application technique that provides control of the devastating disease offers hope that it will no longer be an economical issue. But the product is expensive, Searcy says. "So, my colleagues are working on a site-specific technology that would allow a producer to apply the product only to areas of the field with known infestations."
He says variable rate application of a cotton growth regulator is also possible and would be based on "how the cotton crop was growing. We've been working on this for a while."
GPS Technology
Texas producers have not adopted GPS technology as rapidly as producers in other parts of the country, especially in the Midwest, Searcy says. "We're still in a development stage here, although most of the research has been done and commercial advances have been made over the past 10 years."
He says auto-guidance systems have been widely adapted but those systems may not fit a strict definition of site-specific agriculture. Auto-steer, he says, is a convenient, useful and efficient tool, but "does not address the challenge of applying appropriate levels of product to specific areas of a field."
Site-specific agriculture, he adds, is a more comprehensive concept that involves gathering data and turning that into information to be used  for decision-making, increasing efficiency and profitability. He says information comes from several sources, including field history, soil maps, and aerial imagery.
"Field history is valuable," he says, "and should go back for several years to show trends. Each year has its own variables. Weather and man-made variables such as planting date, tillage, application timing, variety selection and other decisions, affect productivity.
"That may be why some producers are not excited about yield mapping," he says. "Yield maps just give data. To be useful, producers have to turn it into information. To make the investment pay, they have to be curious as to why differences in yield occur. They could be related to soil differences, for instance." He says heavier soils hold more moisture better, so may be more productive in drier years but could suffer in seasons with more than enough rainfall.
"Farmers have a lot of data to sort through. It may be especially difficult for consultants who may work with thousands of acres."
Searcy says adoption of some site-specific agriculture technology may be slow partly because of the rapid improvements of available tools. He also believes Texas may lag behind because of the inherent risks in producing crops in a state with a fairly high chance of crop failure. "Texas producers have to deal with that possibility every year and some are reluctant to make the investment in management tools that can't guarantee a profit."
Transgenic Varieties
He says adoption of transgenic varieties has been higher because that technology was easy to incorporate into production systems. "The technology is already in the bag."
About the only decision farmers have to make is whether to purchase varieties with insect resistant traits or just herbicide tolerance. Also, they have choices about which of several systems to use. He also notes that today farmers have limited choices if they want seed without transgenic technology.
Searcy says the next big opportunity for site-specific agriculture could be through use of unmanned aircraft mapping fields. "We see a lot of interest in UAVs (Unmanned Aerial Vehicles)," he says. "We may see a lot of potential with UAVs in remote sensing, but the technology still needs a lot of development, and we're probably not as close to adoption as some proponents believe."
Potential problems include the low altitude limitations for UAVs—500 feet, as required by the Federal Aviation Administration (FAA). "Most stay at 400 feet to make certain to stay under that limit."
Low altitude may skew results. Also, the small, lightweight craft are prone to roll, drift and yaw with wind turbulence. With just a slight movement, rows 11 through 21 could be confused with rows 10 through 20, Searcy says.
The technology may be promising, but more research and development is needed. "It may be like early days of yield mapping. The vehicles can collect data, but then what do we do with it? It's not as simple as some might think."
Nothing about site-specific agriculture is particularly simple, however. "Producers have to use the data to make decisions," Searcy says. "It's not always easy."
He says the challenge is to gather the information and put it to use without investing too much time and effort and "make it a money maker. It needs to be a seamless turn-key decision for the producer.
"Data," he says, "is only good if a producer can turn it into a decision that helps him make a profit. The information has to be better than the cost to collect the data."