Parsons, Kansas — Jill Scheidt, agronomy specialist with University of Missouri Extension in Barton County, scouted area fields in southwest Missouri on Oct. 9 to prepare this week's field scouting report.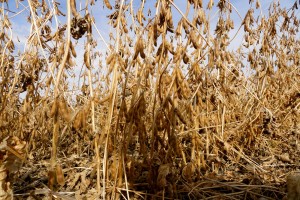 This week, Scheidt found grasshoppers and bean leaf beetles feeding on double crop soybeans.
"As long as leaves are green and seeds are green, pod feeding insects remain a threat to the crop. If leaves and seeds have begun to turn color and mature, insects are no longer a threat because pod feeding insects feed on seeds when they are most tender," said Scheidt.
The threshold level for pod feeding insects occurs when insects are present and have damaged 5 percent or more of pods. Scheidt also notes that maturing soybean plants are less prone to disease.
"When planting wheat, wait until after Oct. 10 to plant fields that are south of the Vernon County line. Those in or north of Vernon may plant wheat after Oct. 6," said Scheidt.
These are the Hessian-fly-free dates. According to Scheidt, planting wheat before these dates increases the odds of Hessian flies laying eggs in emerging wheat crops.
"Severe yield lost will occur in wheat if eggs are laid," said Scheidt.