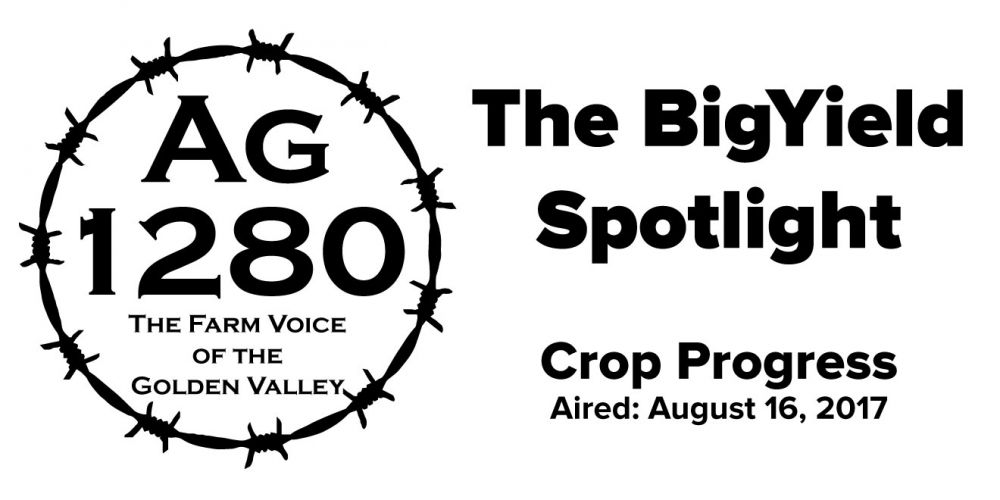 Landon Teal gives an update on this years crop.
Listen to the BigYield.us team and Kyle Hill, Ag 1280 Farm Director, each Monday, Wednesday, and Friday on Ag 1280 KDKD-AM. The segments air at 7:15 am and again at 12:15 pm.
This segment originally aired on August 16, 2017.
Audio Transcript
Kyle: Time for a BigYield Spotlight. I'm Kyle Hill, visiting with Landon Teal, agronomist with BigYield.us. Welcome back.
Landon: Thank you Kyle.
Kyle: Well, we've got another crop report for our spotlight today. Let's talk about the current stage of the crop cycle, specifically where you are seeing our beans and corn at.
Landon: For corn, I'm seeing a lot of fields entering into that dent stage. We're drawing closer to the end of maturity. These kernels are starting to harden up and we'll see that milk line start to move from the top of the kernel towards the bottom. Last week, I checked a couple fields and pulled a couple ears to see where we are for moisture content. I was right around the 35% mark. This is in our early corn fields. Depending on when you planted, that can give you a relative estimate on where you may be. Looking at soybeans, I'm seeing a lot of fields putting on their first pods. This is an exciting time, as we get to see the potential for the bean crop. With these pods pushing out, it can be a crucial time too, making sure we get everything applied that we need to.
Kyle: So some of these corn fields that were planted early on and have held out this long, how close are we to harvest on those?
Landon: This is always a very sticky question to answer, because if you check a field and estimate a high yield and something was to happen, or a grower doesn't have that high yield, it can come back to haunt you. A lot of guys do like to know because this gives them an estimate on what they need to clean out of thee bins. If you tell them the potential of what could be in your field, this could give them an idea of what they need to get cleaned out or just what they need to prepare for. I have seen some decent size ears in some early corn, but we had a bad cycle during the planting season. If you were able to get things settled in around all that madness, I think you will be fine. Along with that, we have had great late season moisture this year. This is also going to be huge because if we got that moisture when ears were filling, there is huge potential – especially for flexed ear. As far as soybeans are concerned, it's hard to say as of now with pods just now coming out. I do know disease pressure has been very low this season. I have not seen very many early diseases set it. Compared to last year I saw a lot, but this year I haven't seen anything that is going to hurt yield. I have seen some good growth and it's always good to see good plant health this late in the season. The only thing we have concern with is if you have a lot of plant health and plant matter, and you aren't getting the pods on there.
Kyle: We've spoken the last few times about pressure from insects and diseases, notably Japanese beetles, stink bugs, SDS, and so forth. What are the current pressures like right now?
Landon: The plants have been looking really good. I have not seen much pressure. In a lot of bean fields I am seeing bacterial blight show up on the leaves. I've seen a little bit of SDS in a couple fields. Depending on how the weather turns out, if we get some moisture, or heat and humidity, we could possibly see some problems kick in. As of now as far as disease is concerned, I haven't seen too much. For insect pressure, I'm starting to see a large variety of bugs starting to move in. Grasshoppers are starting to make more of a presence, clover worms are starting to show up, but thankfully I haven't seen many podworms feeding on leaves as far as last week is concerned. Like I said, not many pods have been pushed out yet so we don't have that pressure to worry about.
Kyle: For anybody that has questions about what's going on in their field or how BigYield can help with their products and services, how can they get ahold of you Landon?
Landon: They can contact us online at www.BigYield.us, give us a call at 816-773-6096, or stop by the research farm. They can sign up for one of our farm tours from September 4th through the 8th.
Kyle: Landon Teal, an agronomist with BigYield.us. Good to be visiting with you again in the studio.
Landon: Thanks Kyle.