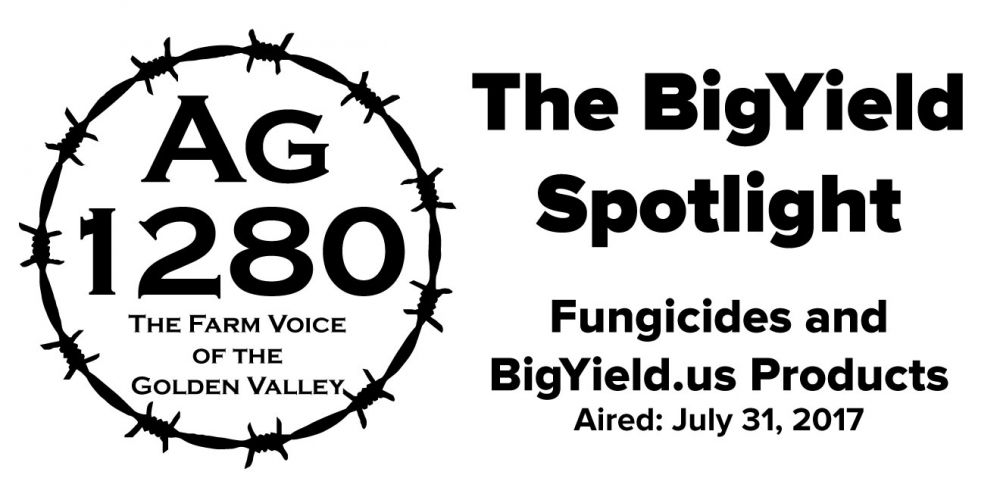 Landon Teal discusses timing for fungicide applications on soybeans and talks about incorporating BigYield products into those applications.
Listen to the BigYield.us team and Kyle Hill, Ag 1280 Farm Director, each Monday, Wednesday, and Friday on Ag 1280 KDKD-AM. The segments air at 7:15 am and again at 12:15 pm.
This segment originally aired on July 31, 2017.
Audio Transcript
Kyle: Welcome back to another BigYield Spotlight. I'm Kyle Hill, visiting with Landon Teal of BigYield.us. Welcome back to the studio.
Landon: Thank you Kyle.
Kyle: We've been talking recently about crop stages and where they are at. With soybeans right now beginning to flower, why is this an important time?
Landon: Well the most logical answer is this is when the pods will start to develop, which in turn for the farmer equals yield. This is also a great time to apply your fungicides and yield-enhancement products.
Kyle: Now what if someone has a field that still has some weed pressure and they apply herbicide at flowering?
Landon: That's kind of a sticky question. I know several guys that as they are applying fungicides will also throw in some herbicide to knock back some of those weeds. The thought of that is good, it's kind of like killing two birds with one stone. However, in my opinion this is very high risk. If you are in the field too late, and you are applying herbicide, you will ding those pods which will also ding your yield. Applying those herbicides has to be early. If you are later than the R1 stage, we're going to have to not apply those herbicides. If you are before the R1 stage, we will be good. But anytime later in the reproductive stages we're going to have to limit the use of herbicides.
Kyle: Now you mentioned fungicides just a moment ago. When is a good time to apply them?
Landon: There has been a lot of talk and research on this question. A lot of people like to say that spraying a fungicide at R1 or flowering works best, while others say that applying later at R3 pod formation stage is better. While applying at R1 you do have the ability to throw in some herbicide if needed. At R3 you can throw in some insecticide if you are seeing insect pressure. Research done by Iowa State Extension shows that applying a fungicide at R3 was showing a better yield response. They also said applying a fungicide at R3 showed better break-even than applying at R1.
Kyle: First of all, let's let folks know about R1 and R3 for those that aren't familiar with it and how you determine between the two.
Landon: Well if you aren't familiar with this terminology, R1 is the beginning bloom for the plant and this is the very first stage in the reproductive life cycle of the plant. R2 is full bloom, so as you walk out in the field, you whole plant is going to show bloom. Some of them may be dried up if you have an indeterminate plant, but in the large scheme of things the whole plant will be at bloom. For R3, that is when the pods are starting to develop and they are less than a quarter of an inch.
Kyle: As far as yield-enhancement products, and of course your name is BigYield so you have to be providing them.
Landon: Absolutely. We can reach these higher yields with our products. We have products like our BigSweetYield, BigSweetYield DB, and our Yield Booster. A lot of these prices vary depending on the product but they are all relatively inexpensive for the increase you will see at the end of the year.
Kyle: And that ROI is very important indeed, and is the goal of the folks over at BigYield. Landon, for anybody that has questions about your products or any of the services you have available, how can they get ahold of you?
Landon: They can contact us online at www.BigYield.us, or give us a call at 816-773-6096, or stop by the research farm there in Garden City.
Kyle: Landon, good to have you in studio today to talk about your perspective. I'm looking forward to more conversations with you.
Landon: Thank you Kyle.