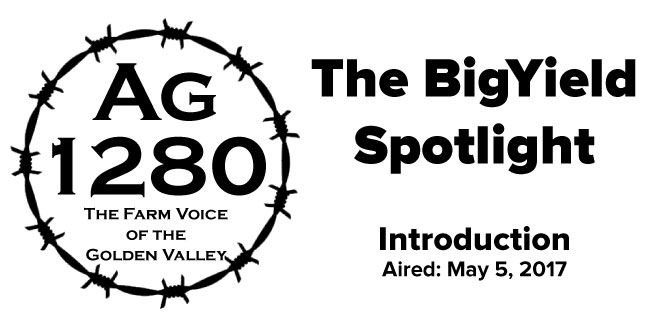 Kent Kauffman introduces BigYield.us and the companies goal of helping farmers make money, save money, and save time.
Listen to Kent Kauffman of the BigYield.us team and Kyle Hill, Ag 1280 Farm Director, each Monday, Wednesday, and Friday on Ag 1280 KDKD-AM. The segments air at 7:15 am and again at 12:15 pm.
This segment originally aired on May 5, 2017.
Audio Transcription
Kyle: It's time for the BigYield Spotlight. I'm Kyle Hill, visiting with Kent Kauffman of BigYield.us. Kent, it's our first spotlight here so let's tell everybody a little bit about yourself.
Kent: Yes Kyle, my name is Kent Kauffman, I work on the research farm in Garden City for BigYield.us. The BigYield line of products are products to reduce your cost, increase your efficiencies, and improve your bottom line. Those are the three things we try to do. We do a lot, we provide information for growers like plant nutrition, seed treatments, and both in-furrow and foliar products. On the research farm, I'm the CEO of The Farm Research Center itself. We specialize in testing. We test genetics, yield-enhancing products, and any sort of innovative production practices. Basically anything we can do to do one of those three things for the farmer. All the products that we sell we first test on the research farm.
Kyle: And with those approaches you drive high yields, good return for growers, and of course the important part – return-on-investment. Let's talk about your focus on that.
Kent: The big focus on return-on-investment is because it's not just about yield. It's about how much you pay for your yield. So a lot of times when you go from 150 bushels of corn to 185 bushels of corn it makes you around $1.00 to $1.50 per bushel. But making that jump from 185 bushels to 210 bushels you might just break even. It's just about figuring out those increases, because all of your inputs are costing you bushels. You have to make sure your getting those bushels back and more. It's great to go to the coffee shop and talk about having the best yields in the area, but you also want to make the most dollars for you yield.
Kyle: Getting that optimum yield is one way of increasing efficiencies. Tell us more about ways BigYield.us is helping farmers increase efficiencies in their operation.
Kent: So we're obviously trying to increase yield and get return-on-investment, but we want to do this as efficiently as possible. We don't want farmers to have to learn a new job to use our products. We want them to put into practice what they are already doing. For example, one of our products is a dry seed treatment that goes on top of your seed treatment, used like talc or graphite in a planter box. So it replaces what they are already doing. We also do in-furrow treatments. This is an addition to the planter, but you are already going out in your field, planting your corn anyways. So running in-furrow treatments with that is very efficient. Additionally, our foliar treatments are made to be mixed with any type of insecticide, herbicide, or fungicide, so you're not making an extra trip into the field.
Kyle: If someone has questions about these and other BigYield products, how can they get ahold of you?
Kent: The way they can reach us is we are available online at www.BigYield.us. You will see all of our products and data, and see a lot of videos and demonstrations as well. You can also give us a call on our toll-fre line at 844-242-4367. Again that's 844-242-4367. Or you can stop by the research farm. It's located on 7 highway in Garden City. It's just west of Garden City, just south of Harrisonville. Address is 28706 HWY 7. We're always happy to have walk-ins, show people what's going on at the farm and show them our testing. We currently have several hundred corn plots. We are going to have a similar amount of soybean plots. We have a lot of university testing on the farm, as well as drone research, spray drone testing and things like that. We're more than happy to show farmers what we're doing.
Kyle: You've got a lot going on there at the farm, and you cant miss the farm on 7 highway. We don't have much more time to talk, so we're going to keep this series going. Stay tuned at this time for the BigYield spotlight, Kent Kauffman our guest today from BigYield.us. Good to have you here in the studio.
Kent: Thanks for having me Kyle.