Missouri ranks ninth in planting progress among Midwestern soybean-growing states.
"Missouri farmers face a triple whammy of prevented corn planting, delayed soybean planting, and poor crop vigor because of cloudy skies and wet soil," says University of Missouri Extension soybean specialist Bill Wiebold.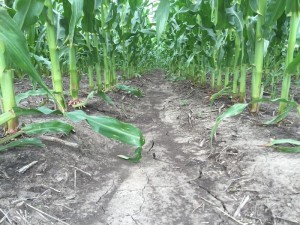 With heavy rains forecast for the next several days, that won't change.
"The weather forecast doesn't bode well for Missouri farmers," Wiebold says. As much as 5 inches of rain are predicted for the next several days. Then Tropical Storm Bill will move from Texas into Missouri with additional heavy precipitation.
As of June 14, only 42 percent of intended soybean acres were planted in Missouri. Farmers to the north and east of Missouri have planted more than 90 percent of their planned acres.
The Missouri Climate Center (http://agebb.Missouri.edu/weather/river.htm) lists river and stream floodings, and they are plentiful.
The USDA National Agricultural Statistics Service's nine Missouri districts report different frequencies of rain events. "The eastern side of the state had had a few—very few—more days of planting opportunity than the western side," Wiebold says.
The "best of the worst" progress is in the southeastern, eastern and northeastern districts. "Regardless of location, soybean planting lags normal and yield potential has been reduced," he says.
Wiebold conducted 12 years of experiments in central Missouri that show how yield correlates to planting date. "Soybean yield is highly related to weather conditions during August, and yield variability among years for June-planted soybean was large," he says.
Average yield for soybean plantings in the third week of June is at least 25 percent less than soybean plantings in early May.
More than 3 million of Missouri's estimated 5.65 million soybean acres have yet to be planted.
Attribution
Missouri University Extension – 'Triple Whammy' for Missouri Farmers (http://extension.missouri.edu/n/2562)