The buzzing sound you heard at Progress City USA this week wasn't the sound of beehives in action, it was the noise of multi-rotor unmanned aerial vehicles in demonstrations at the first-ever Precision Aerial Ag Show. Held on the Progress City USA site, this event was focused on this hot new technology and offered one of the few places where you could check out the machines in action.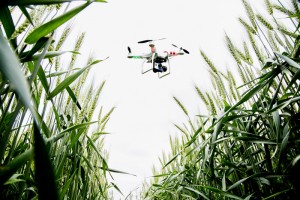 The demonstration space was clearly defined – per rules set down by the Federal Aviation Administration and the Academy of Model Aeronautics. Remember these flying information gatherers are nothing more than hobby aircraft until the U.S. Federal Aviation Administration makes rules for commercial use. For now only the farmer can fly his own fields for use in data gathering.
The event, organized by AgEngage, had Farm Progress as a media partner. Held on the Decatur site where the Farm Progress Show is held every odd year, visitors had easy access to the site.
Highlight of the event was the aerial demonstrations. For many it was the first time they'd had a chance to see the machines in action. Both the hovering multi-rotor type UAVs and the fixed wing machines were demonstrated. Both have their uses. The fixed wing machine is unsurpassed in coverage ability where capturing a field's information can be done quickly and smoothly. The multi-rotor devices can also do full-field imagery, but are also good for task-oriented work like checking irrigation pivots.
Demonstrations were just for showing the machines in flight – per the strict rules of the event companies could only provide basic information about the operation of their machines. The "marketing speak" of selling the machines had to be done in the trade show area. And visitors were very interested in these devices.