U.S. wheat production will be down sharply this year as a year-long drought damaged fields in the heart of wheat country from Kansas to Texas and fewer acres were planted to soft red winter in the Midwest, USDA said on Wednesday.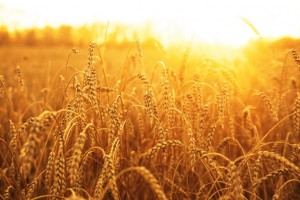 Few changes were made to U.S. corn supply and demand numbers, while USDA lowered current year U.S. soybean ending stocks to 125 million bushels from the 130 million in May, and trimmed 2014-2015 stocks to 325 million from May's 330 million.  The 125 million was a little smaller than expected, while the 325 million slightly larger.
Combines are just starting to harvest this year's winter wheat and USDA said that when they are done there will be 1.381 billion bushels in the bins, down 10 % from 2013's 1.534 billion, with soft red winter seen down 20%,  hard red winter down 3.2%, and white winter down 8.4%. Hard red winter wheat is the largest class of U.S. wheat and produces flour for bread production.
Total U.S. wheat production, including spring wheat, was put at 1.942 billion, down from the May estimate of 1.963 billion and 2013's  2.13 billion.
Wheat futures moved lower after the report as an even smaller crop had been expected, demand was reduced, and healthy crops around the world should make up for the shortfalls here.
"Even more bearish was the agency's continued ratcheting down of (wheat) demand. By cutting exports, food use and livestock feeding, USDA painted a scenario that's bearish for prices without a major disaster in Australia this year. Futures look ready to challenge January lows as a result," said Bryce Knorr, Farm Futures senior grain analyst.
USDA on Wednesday raised its global ending stocks forecast for 2014-2015 wheat to 188.61 million tonnes from its May estimate of 187.42 million, and showed large crops in Argentina, Europe, and China.
U.S. corn futures moved lower after the report as USDA's domestic corn numbers were about as expected and provided few reasons for buyers to jump into the market. Rapid spring planting and good early crop growth has encouraged selling of the futures with lead July at a three-month low.
U.S. ending corn stocks for 2013/2014 and 2014/2015 were unchanged from May estimates at 1.146 billion and 1.726 billion, respectively. Globally, USDA expects 182.65 million tonnes at the end of the crop year, up from May's 181.73 million.
Soybean futures moved lower after USDA's report, despite the lowered forecasts for ending stocks of 125 million bushels and 325 million for this year and next. The 125 million was down slightly from trade estimates, while the 325 million was slightly larger. USDA kept soybean crop estimates for Argentina and Brazil unchanged from May at 54 million and 91 million tonnes, respectively, with Argentina's unchanged from the previous year and Brazil's up from 87.5 million.