The driest August across northern Missouri since 1984 has the United States Department of Agriculture revising crop yield projections downward for the upcoming harvest.  In addition, a continued drought plagues the northern part of the state, with 20 counties affected by what the National Weather Service calls a "severe drought".
"Drought has and always will be a part of the Missouri landscape," said University of Missouri Climatologist Pat Guinan.  However, he characterizes the last few weeks as a flash drought, and a "drought on steroids."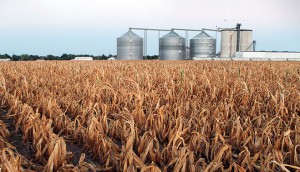 The National Agricultural Statistics Service Missouri Field Office issued updated projections on Thursday, estimating a yield of 125 bushels of corn per acre instead of 130 and 35 bushels of soybeans per acre instead of 39 for the north central part of the state.
Despite the lower production from northern Missouri, the USDA expects overall corn harvest in Missouri to increase 64 percent from last year, up to 406 million bushels from 248 million.  Soybean harvest is expected to increase 27 percent, up to 197 million from 155.  Wheat harvest is also expected to increase, from 54 to 39 million bushels.
USDA State Statistician Bob Garino says rains in the southern part of the state have made up for the drought in the north.  "Down in the Boot Heel we actually raised the yield down there for corn by about 12 bushels.  The same is true for soybeans…in the southeast where they've had a little bit more moisture we've raised the yield."
However, the good fortune of the south has not been felt in the north.  49 percent of corn and 52 percent of soybean crops are reported in poor condition.  Kirksville, Edina, Macon and Brookfield all reported their driest August on record, with the flash drought continuing.