Wheat harvest is underway around the area and early reports are looking better than many producers had previously thought.
"Producers are quite pleased with the results so far," said Josh Coltrain, K-State Wildcat Extension agronomy specialist in southeast Kansas. "Yields are higher than expected. People were really worried about how low yields were going to be. We originally expected yields to be in the 40s, maybe 50s. To hear reports of over 60 is exciting."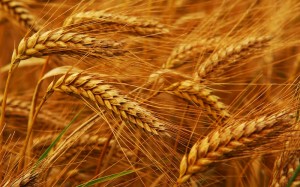 Last week, yields ranged from 30 into the 60s, Coltrain said. Average yields were in the mid to upper 40s.
"We've seen very high test weights," Coltrain said. "We didn't expect this good of test weights. Essentially, everything is over 60 pounds per bushel."
Coltrain added he heard reports on some test weights in the 80 pounds per bushel range with some spots hitting 100 but those were definitely not field averages.
Generally, southeast Kansas struggles with diseases in wheat, Coltrain said. However, no real presence of disease has been reported so far.
"We haven't had good conditions for wheat but it also wasn't good for disease," Coltrain explained. "Producers can really tell a difference. We've had a very disease-free year. Yields are good with the lack of disease.
"The humidity has made farmers get in the fields later in the day," Coltrain added.
In southeast Kansas, one elevator estimated 15 percent of the wheat crop had been harvested by June 19. However, progress is dependent on location.
"There is a distinct gradient on how much is being harvested from north to south," Coltrain said. "Labette County is quite a ways ahead of Crawford County.
"We're just getting started," Coltrain added. "It's very much agreed upon that the earlier planted wheat is better this year and higher yielding. We had an awful lot of wheat planted late."
Producers who planted earlier will be happier with their results this year, he said.
An official from Beachner Grain in Afton, Okla., said farmers had reported yields ranging from 30 to 75 bushels per acre. Test weights ran from 59 to 63 pounds per bushel.
"We are not seeing any disease on the grain," the official reported. "We're seeing more on the plant."
He also said it is a good year to save some seed wheat considering the reported yields and test weights.
According to Jill Scheidt, University of Missouri agronomy specialist, early soft wheat yields were ranging from 50 to 80 bushels per acre in southwest Missouri last week.
In central Kansas, the Kansas Wheat Commission's Harvest Report noted 30-40 bushel yields around Sterling and Claflin with 30 bushel yields at Lindsborg.
Marsha Boswell, director of communications for Kansas Wheat, wrote that crop scouts had predicted on May 1 Kansas wheat production would be at 260.6 million bushels, making it the lowest production year since 1996. The predicted average yield for the state was 33.2 bushels per acre. – See more at: http://www.farmtalknewspaper.com/local/x1669978648/Wheat-yields-quality-better-than-expected#sthash.4jcOMJ6e.dpuf