Dinosaur Dirt is approved for organic use. Be sure to ask your organic certifier before using this product.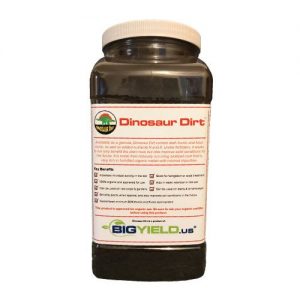 Available as a granule and a powder, Dinosaur Dirt contain both humic and fulvic acids, as well as added nutrients N and K. Unlike fertilizers, it works to not only benefit the plant now, but also improve soil conditions for the future. It is made from naturally occurring oxidized coal that is very rich in humified organic matter with minimal impurities.
Key Benefits
Minimum 80% Humic and Fulvic acid content
Increases microbial activity in the soil
Great for fertigation or seed treatment
Benefits plants when applied and improves future soil conditions
100% organic
Aids in water retention
Can be used on row crops and gardens
Can be used on lawns and ornamentals
Recommended Application
Row Crops and Gardens
Broadcast 100 to 400 pounds annually. Can be incorporated with applications of fertilizers.
Lawns & Ornamentals
Broadcast 2 pounds per 50 square feet. Apply every 6 months. Can be incorporated with applications of fertilizers.