The BigYield.us team has wrapped up the 2016 corn harvest. At BigYield.us, we view field research as one of our greatest assets. Through research, we test products and practices and identify those most likely to maximize yields for our farmers. Essentially, with knowledge gleaned through research, we fulfill our mission of saving you money, making you money and saving you time.
Like in previous years, this year's corn yield data indicate that plants provided with a healthy start are more likely to get big yields at harvest. Based on trials conducted at The Farm Research Center in Garden City, Mo., our BP In-Furrow product can boost corn yields and generate a good return.
BP In-Furrow blends the multiple beneficial bacteria in our BigBioYield biological with a high-quality, food-grade starter fertilizer. Meant for corn, wheat, milo and other crops, BP In-Furrow protects against soil-borne diseases and pathogens, promotes enhanced root development, enhances nutrient availability and increases soil organic matter.
The following chart presents average yields for one control and two BP In-Furrow treatments. By adding BP In-Furrow at 4 gallons per acre at planting to the control fertilizer program, average corn yields increased by 30 bushels per acre. With the BP In-Furrow, this program generated a 341 percent return, assuming a $3.40 per bushel corn price and the BP In-Furrow investment.
Using BP In-Furrow and slow-release nitrogen at planting instead of a conventional 29.6-0-0-3 N-P-K-S fertilizer increased yields to 171.85 bushels per acre on average. Returns for the BP In-Furrow and slow-release nitrogen test averaged 140 percent, assuming a $3.40 per bushel corn price and the BP In-Furrow and slow-release nitrogen investment.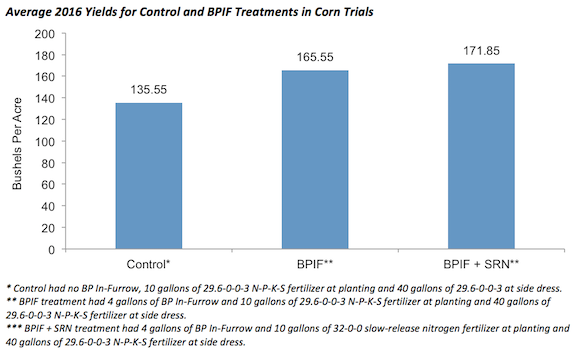 This video from August 2016 shares about a BP In-Furrow on-farm trial that one of our growers in Appleton City, Mo., designed. His tests also attributed a yield bump to BP In-Furrow applications.
When you start planning for 2017, we encourage you to consider using BP In-Furrow as a supplement to your fertilizer program. The relatively low-cost investment can go a long way in supporting yields and a financial return. As you make operational decisions for next year, also see this story from Corn and Soybean Digest. It outlines five points to promote profitability on the farm.
To learn more about BP In-Furrow getting big yields in corn, please contact us anytime!