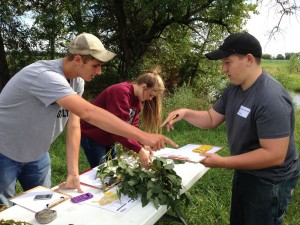 Local FFA Teams descended upon the The Farm Research Center in Garden City, Missouri, this past Saturday, September 6th. FFA students from Adrian, Appleton City, Cass Career Center, Cass Midway, Cole Camp, Holden, Montrose and Rich Hill pulled on their muck boots and hit the fields to calculate standing yields on corn and soybean.
Each team was given the yield estimate formulas, developed by the University of Kentucky and the University of Illinois, for calculating the yield of crops still standing in the fields. The universities developed these corn and soybean formulas to help farmers get an advanced look at their crop yields for planning purposes.
With clipboards, calculators and measuring tapes in hand, the students headed out to the fields in teams and looked at soybean pods and kernels of corn. They meticulously counted and calculated until they came up with the answers that they would submit to the research staff. Once the crops have been harvested and the actual yields are known, the top three teams to have calculated the most accurately will receive a cash prize of $1000, $500, and $250 respectively. All teams received $250 just for participating in the competition.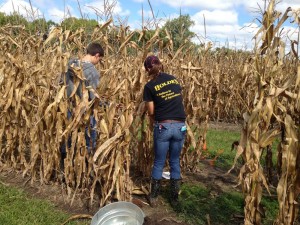 "Ag Way Days is an annual event held at The Farm Research Center as an opportunity for students to learn more about agriculture and to get prepared for a career in and around the farm," said Bill Cook, the CEO of The Farm Research Center. "I was involved with the FFA and my children were involved with the FFA. It's a foundational organization within the agricultural community and I am proud to be a supporter of these students through our event," said Cook.
While on the farm, many of the students asked the researchers about varieties of corn and soybeans. They asked about jobs that are available on the farm, and even asked about internship opportunities for themselves and fellow students. "It was exciting to see the energy and enthusiasm that the students and their advisors have for agriculture," says John Ortiz, General Manager at the Farm Research Center.
In October the FFA Teams will be invited back to the research center for an award ceremony where the top winners will be recognized and will receive their cash prizes.