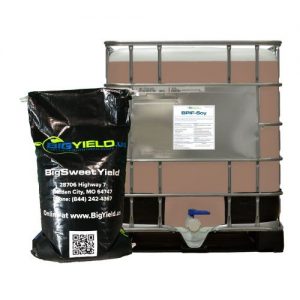 BPIF-Soy is an in-furrow application specifically designed for soybeans. This product combines the BigBioYield poly-microbial blend and cold-processed sweetener to give your soybeans a fast start and keep them healthy.
Key Benefits
Increases overall yield by increasing plant health
Protects against soil-borne diseases and pathogens
Promotes enhanced root development
Increases the availability of nutrients
Increases proteins, vitamins, minerals, and sugar within the plant
Produces chitinases, which naturally suppresses nematodes
Increases rooting and mineral uptake
Increases root growth, root exudates, and nutrient uptake
Growers like you are seeing healthy yield increases by applying BPIF-Soy as an in-furrow application.
Soybean Data
Recommended Application – Soybeans
BPIF-Soy is an in-furrow application, designed to be applied at the time of planting. We recommend applying at a rate of 4 ounces liquid + 1 pound dry per acre.