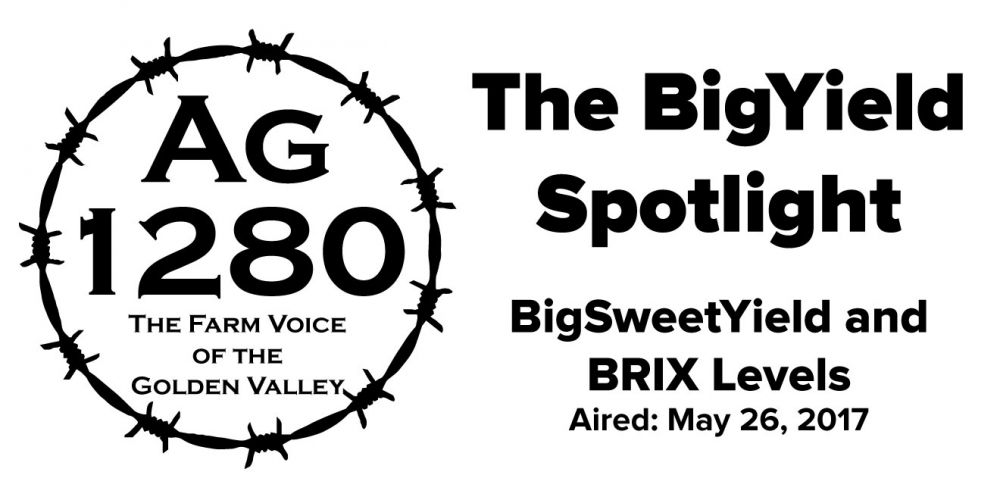 Kent Kauffman discusses using BigSweetYield and it's effects on a plants BRIX levels.
Listen to Kent Kauffman of the BigYield.us team and Kyle Hill, Ag 1280 Farm Director, each Monday, Wednesday, and Friday on Ag 1280 KDKD-AM. The segments air at 7:15 am and again at 12:15 pm.
This segment originally aired on May 26, 2017.
Audio Transcription
Kyle: Welcome back to the BigYield Spotlight. I'm Kyle Hill joined in studio by Kent Kauffman of BigYield.us.
Kent: Thanks for having me Kyle.
Kyle: Once again we're talking about BigSweetYield. One of the terms that is used when it comes to talking about sugar is Brix. What is this term that I've been hearing about?
Kent: What the Brix level is, is it's basically the way to measure the amount of sugar that you have. It's the sugar content in a solution. They've made something called the Brix degree, and it's one gram of sucrose in 100 grams of water. The higher Brix level is important, not just for the sugar content itself, but because a higher Brix level in a plant means you're going to have more trace minerals and overall plant health.
Kyle: How easy is it to measure Brix?
Kent: It's actually very easy to measure different Brix levels. Most of your crop advisers should have a Brix measuring kit. It's called a refractometer. They're very low cost, so if a grower wants to get one for themselves they are very easy to buy and very easy to use. You just need a little bit of your plant. You will crush it and put some type of oil in it, and measure that solution with the refractometer. Then you will be able to tell if you have low, medium, or high Brix levels.
Kyle: What are some of the benefits of a higher Brix level?
Kent: A higher Brix level basically means a healthier plant. You will have a plant that is better able to resist disease and insect pressure. It also leads to a longer shelf life of the crops after they're harvested. It is also directly linked to soil health. A healthy, high Brix plant will help make healthy, microbial soil. This creates a nice feedback loop, further increasing the health of the plant and definitely increasing your yield.
Kyle: Can you only raise Brix levels with foliar nutrition.
Kent: No, you can raise Brix levels with both foliar and in-furrow applications. Directly applying our BigSweetYield cold-processed sweetener as a foliar application will raise Brix levels and farmers should notice a greening up of their crops and can test levels with a refractometer to see what is happening. Brix levels can also be increased by increasing the carbon in the soil. Our BigSweetYield as an in-furrow treatment increases carbon in the soil because the BigSweetYield is a carbon source. This can be measured simple soil testing. Also, regular irrigation can increase Brix levels, whether through center-pivots, in-ground, or flood irrigation. If you can't irrigate, a foliar application of our BigSweetYield works really well after a week or more of hot, dry, and windy conditions like we had this past year. I definitely noticed a difference in the fields I did and did not do it in.
Kyle: For the opportunities to apply BigSweetYield, you can pretty much find any opportunity to get that in the field.
Kent: Yes I like to put it on every time I go over the field. It's very low cost and it has easy mix-ability with anything you want to put on – herbicides, fungicides, insecticides, etc.
Kyle: If anyone has questions about BigSweetYield or any of the other treatments available from BigYield.us, how can they get ahold of you?
Kent: They can go to www.BigYield.us. They can also call our toll-free line, 844-242-4367. They can stop by the research farm off of 7 highway in Garden City, or they can check us out on Facebook.
Kyle: Kent, good to visit with you again to talk about BigSweetYield and everything going on there at the farm. Looking forward to our next conversation.
Kent: Thank you Kyle.