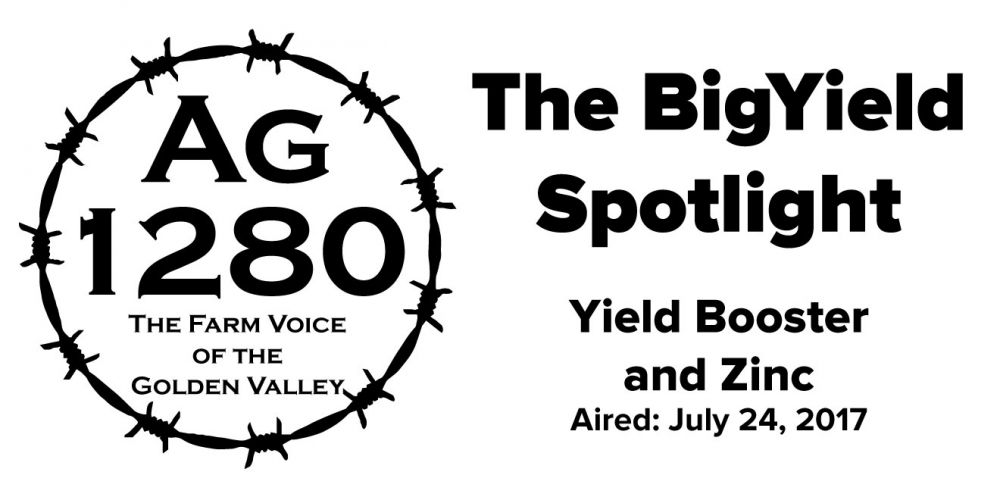 Landon Teal discusses Yield Booster and the importance of the micronutrient Zinc.
Listen to the BigYield.us team and Kyle Hill, Ag 1280 Farm Director, each Monday, Wednesday, and Friday on Ag 1280 KDKD-AM. The segments air at 7:15 am and again at 12:15 pm.
This segment originally aired on July 24, 2017.
Audio Transcript
Kyle: Welcome back to the BigYield Spotlight. I'm Kyle Hill, visiting with Landon Teal of BigYield.us. Good to be visiting with you.
Landon: Thank you Kyle.
Kyle: We've talked about micronutrients in the past, specifically your Yield Booster product. Let's refresh everyone about what the micronutrients are in Yield Booster.
Landon: In Yield Booster, this is a great product to be applying right now. One thing that the Yield Booster really thrives on is the micronutrients. Some of those micronutrients that the plant does require are Zinc, Manganese, Copper, Iron, Boron, Molybdenum, and Chlorine – all of which are in the Yield Booster product (correction: chlorine is not in Yield Booster).
Kyle: So let's talk about Zinc deficiencies in our crops.
Landon: One thing that we notice is Zinc deficiencies in corn. It usually occurs when soils have a high pH, a farmer is running high Phosphorus rates, because some of those guys are not taking soil tests so they blanket it out there. Also when the soil is cool and very wet like this spring. We have had lots of guys have this symptom. But anyways, these conditions are why farmers use our BigYieldCoat Corn +Zn, and it did very well this spring with good emergence and good stands. In corn, Zinc deficiencies will show up as yellow streaks in the leaves and stunt the leaf growth. You can have inter-venial chlorosis. Once you see that happening in the corn, we can go out and determine whether it's a Zinc or Sulfur deficiency. Those two correlate and a lot of times get confused because it's the same symptom, but they are opposite when determining what it is.
Kyle: Do farmers need to apply a lot of micronutrients?
Landon: That's a funny question. A lot of times they look over the micronutrients. Specifically, not many farmers need to apply a lot of micronutrients. Products like our Yield Booster can help increase yields and give them the micronutrients they need. One thing I do want to emphasize is micronutrients can be your biggest limiting factor. What that means is you can apply your macronutrients – your nitrogen, phosphorus, potassium – but if you have a small amount of micronutrients, that will limit your crop from producing the highest yield that it can.
Kyle: How do farmers apply these micronutrients?
Landon: One way that farmers can apply these is in-furrow. That is basically putting it right into the seed furrow. As your planting, you are dripping the product right along the seed so it has a good start right off. A lot of times people that don't have the capability of doing that and they can apply foliar. We go right over the top and spray that on by itself or with another application. Right now, it's a great time to apply the Yield Booster as we near the reproductive stages in soybeans.
Kyle: If anyone has questions about your Yield Booster or any of the products available at BigYield, how can they get ahold of you?
Landon: They can contact us online at BigYield.us or give us a call at 816-773-6096 or stop by the research farm there in Garden City.
Kyle: Landon, looks like you've got a lot of work going on there at the research farm West of Garden City on Highway 7. I hope folks can get out there and talk to you about Yield Booster and the various products you have available through BigYield.
Landon: Absolutely. Thanks Kyle.