Crop biologicals like BigBioYieldTM provide several benefits for growers. They protect crops from diseases; unlock nutrients bound to the soil; promote a healthy, strong root system; and help to manage pest pressures. Another benefit involves producers having the flexibility to choose from multiple BigBioYieldTM biological application methods.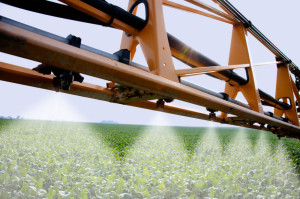 To apply biologicals, several options are available. First, the biological may be applied in-furrow during planting. Second, the biological may be applied directly to plant foliage. Third, the biological can be impregnated onto dry fertilizer and then applied using a broadcast spreader.
Each application method has specific merits and purposes. For example, impregnating BigBioYieldTM on dry fertilizer may make fertilizer application more even and improve the spreader pattern. In other words, the liquid BigBioYieldTM biological coating may help to reduce overapplying fertilizer in one area and underapplying it in another.
To use the product in furrow, BigYield.usTM professionals recommend applying liquid BigBioYieldTM via a tube that places the liquid product just below where the planter positions seed. Using a seed firmer would help to manage seed placement. Research indicates that this application strategy would facilitate early root development.
For more information about applying the BigBioYieldTM crop biological on your farm, contact a BigYield.usTM professional at 844-242-4367.