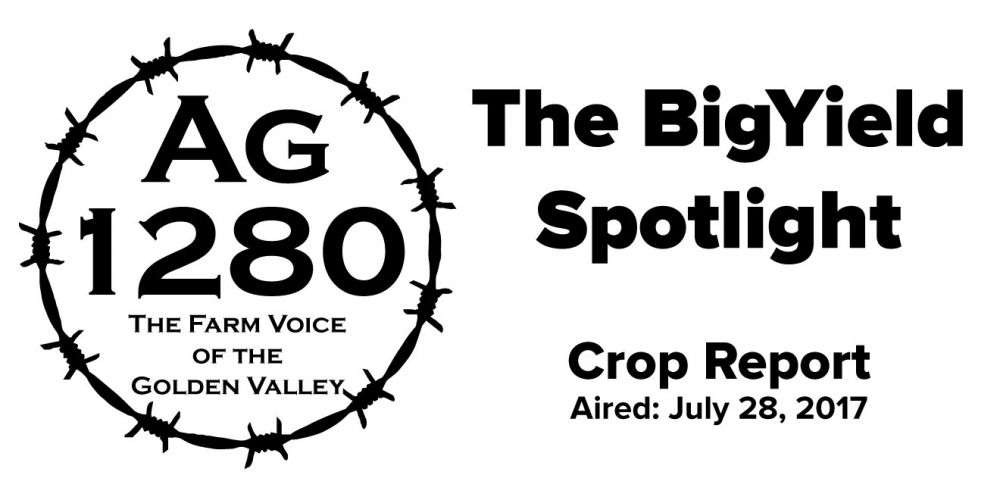 Landon Teal discusses gives an update on the soybean and corn crop.
Listen to the BigYield.us team and Kyle Hill, Ag 1280 Farm Director, each Monday, Wednesday, and Friday on Ag 1280 KDKD-AM. The segments air at 7:15 am and again at 12:15 pm.
This segment originally aired on July 28, 2017.
Audio Transcript
Kyle: Time for the BigYield Spotlight. We're joined once again in studio by Landon Teal, an agronomist with BigYield.us. Glad to have you in here.
Landon: Thanks Kyle.
Kyle: We're nearing the end of July. Lot's of growers are wondering what to expect from this growing season. We've had a lot thrown at us. Landon, what have you been seeing?
Landon: Yeah, of course. This season has been very good. The first half of the year was great – we had great moisture. Planting for the most part went well. Some people struggled but overall it went very well. Once the seed was in, everything worked out well. We had good moisture, then we had those cool spells. During the vegetative stages, we could not have asked for any better weather conditions. Things stayed cool, we had good moisture to promote that great plant growth. Now, as we look toward the end of July, the tides have turned a little. We've been going through a heat spell the last couple of weeks that could really impact corn if you are in that grain filling stage. I've been in several fields showing some drought like symptoms. For soybeans, the last couple weeks have been a little rough, as I am starting to see more onset of disease. As we get a little bit of moisture and some of those heavy dews, and then that heat underneath the canopy, those diseases are thriving. The hard part right now is that I am seeing some plants with disease symptoms that have drought stresses. Hopefully we can get some cooler temperatures and some moisture to help these fields so we don't have to access irrigation.
Kyle: Looking at the fields you have been in Landon, what growth stage are you finding most corn at?
Landon: This goes back to just depending on when you planted, but most fields I have been in are either in the grain filling stages or going through pollination. With this heat, pollination can be affected if pollination occurs before silks have pushed out.
Kyle: We've had some farmers because of heavy rain we had in April that had to replant. What are you seeing in those fields?
Landon: Most of them have already tasseled, so we're past that stages. Those silks are starting to push out, and that's where we go back to insect pressure. Like we've stated before, it's a good time to be seeing Japanese beetles.
Kyle: Let's talk a bit about the soybeans and their growth stage. What are you seeing there?
Landon: A lot of those soybeans are looking really good, other than a few stresses. Most of the soybeans have reached the higher vegetative stages or are beginning to flower or bloom. Most of your indeterminate varieties are starting to flower, so I'm seeing flowers on the bases of the plants and those will continue to flower as the plant grows and matures. If growers had to replant, then we're looking at most plants being around the V5 to V6 stage.
Kyle: To reiterate, we are seeing corn coming to an end waiting for those plants to reach maturity. Soybeans continuing to flower. Is there anything growers can do to help protect their crop at this time?
Landon: It's good to mention that because it's actually a very critical time. There are a couple things we can do to help protect what they have in the field there. First, if they want to apply a fungicide, we are beginning to reach the time that it is perfect to do so. Also, if they want to use yield-enhancement products, now would also be a great time. Some of those products like our BigSweetYield or our Yield Booster are great products to increase yield, and they are easy to apply because you can tank mix these with your fungicide products.
Kyle: If anyone has questions about BigYield products or the services available there at the farm, how can they get ahold of you?
Landon: They can contact us online at BigYield.us, or give us a call at 816-773-6096, or stop by the research farm there in Garden City, Missouri.
Kyle: And that research farm, just west of Garden City on highway 7. Big sign there, can't miss it. Landon, good to visit with you once again, getting your perspective and getting the update on crops here in the Golden Valley.
Landon: Thanks Kyle.