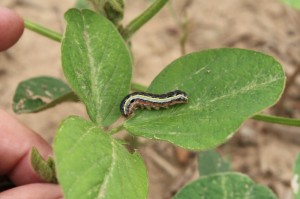 When Soy-100 is applied directly to plants, it is immediately soaked into the plant.  Once the product is deep inside the plant, the sugar content of the plant rises.  If you are skeptical, go pour a sugary beverage on a patch of grass in your front lawn. Check back on the spot in one week and you will understand exactly what I mean.  Plants use simple sugars as energy stores during rainy days and winter hibernation.  So, why should this interest you as a farmer?  Not only are you giving your plants a boost of power, you are stopping bugs.  "What?" you ask.  Yes, it is a bug preventative.  Insects are quite uncomplicated creatures.  They are only able to eat plants within a small window of sugar content.  When the amount of sugar is raised, insects can no longer feed on the plants.  After one attempt, they move on.
Another way insects are controlled by sugar is when the insect directly ingests the sugar.  Most people don't realize that only sugar ants and bees are capable of processing the simplest sugar.  Gas builds up in the insects gut from fermenting sugar and vegetation, and they don't have any way to pass it.  They also have exoskeletons that won't allow them to bloat.  The insect's fragile internal organs are then crushed from the inside out.  All it takes is a bug to walk through or attempt to eat a sugar covered plant.  Insects are always cleaning themselves.  After licking the sugar off their feet they will try to swallow it.  If they take a bite of sugar coated plant, they will swallow it.
Soy-100 is designed to do this very thing.  Contact us at Big Yield for more information on this product and feel free to check out our page at Bigyield.us.  Have a great day!